Gold Galore
Two of the Club's international sprinters, Theo Etienne and Chad Miller, helped HW take gold in the Senior Men's 4x100m Relay Championship at Carshalton, teaming up with Ryan Facey and Antonio Douglas (pictured above) to win in 42.22, a new HW Club record. The quartet of Ivan Suarez, Pete McLeod, Will Toms and Kashane Gayle took the bronze medals. There was victory too for the 4 x 400m team of Miller, Devonte Casely-Hayford, Jaleel Roper and Andrew Sarpong, clocking 3:34.16, while Hamed Agboke, Ivan Suarez, Pete McLeod and Will Toms took the silver medals in 3:38.61.

A week after taking gold in the English U15B 200m Championships at Bedford, teenager Freddie Arkell anchored the U15B 4x100m team to victory in a Championship record – also a HW Club record – of 45.37 seconds. In an impressive display the quartet of Amir Howe, Emmanuel Adetu, Efe Peters and Arkell finished 20 metres ahead of the silver medallists. The senior women's 4x100m team won silver and the U17 Women 4 x 100m team took bronze medals.
In the Combined Championships Jenny Steinitz won the gold medal in the Senior Women's competition by more than 400 points with Ann-Kathrin Mielke taking the bronze medal. Teenager Ellen Weir won the silver medal in the U17 Women's 1500m steeplechase.
Venetian Gold

Thanks to her season of breaking British steeplechase records GB international Lisa Thomas started as favourite for the W50 2000m steeplechase title at the European Masters Championships in Italy – and she didn't disappoint. Watch her taking the gold medal with ease here. It was a second medal for Lisa who had already clinched silver in the 300m hurdles. There was gold too, in the M50 800m for Dominic Bokor-Ingram. Emilie Bokor-Ingram took the bronze medal in the W35 400m in 63.49.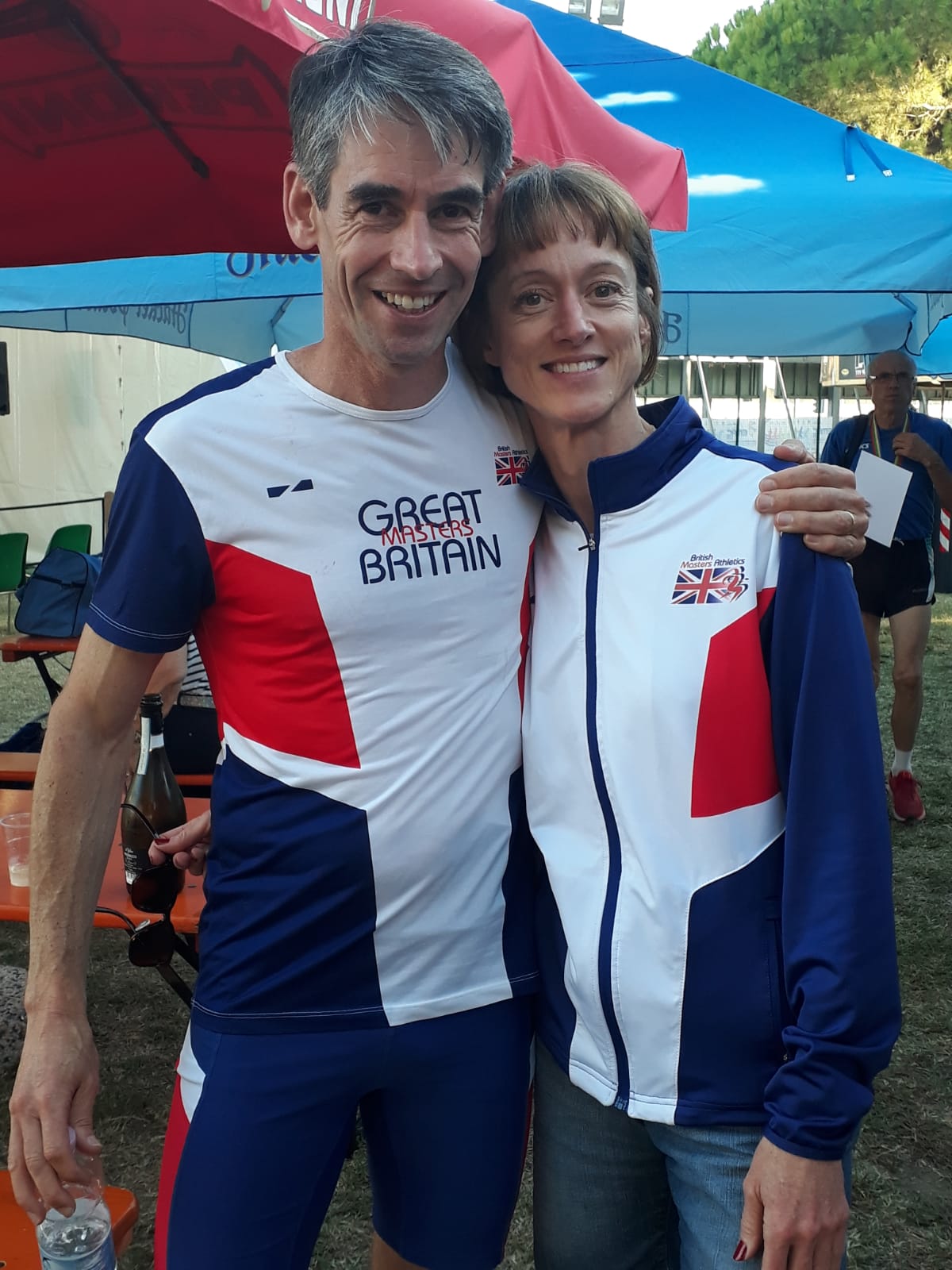 Gold medallists Lisa Thomas and Dominic Bokor-Ingram
Results

Sat/Sun 7-8 September: Surrey / Sussex County Combined Events, Track Relays, Steeplechase & Walks Championships, Carshalton Full results


parkrun

7 September

John Siddall was the best of 18 Hercules Wimbledon runners in action in the Wimbledon Common 5km parkrun on Saturday. He was fourth of the 647 finishers in 17:42, a 15 second improvement on his best time set the previous weekend. Jonny Cornish clocked a much faster 15:06 in taking runners-up spot out of 1417 runners in the Bushy Park event. He was nine seconds behind the winner.